How Much Should You Expect to Spend on a Basement Remodel?

Finishing your basement is an excellent way to add extra living space to your home and increase its value. Plus the passive income if you decide to rent it out!
Most remodels get an average of 70% Return on Investment.
The cost of finishing a basement varies depending on scope of the project and materials used. An average basement remodel takes about $18,00, but can range from $3,000 - $80,000.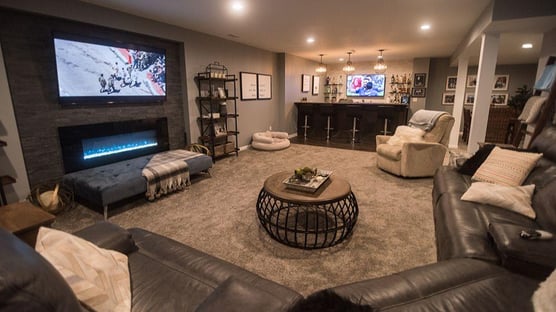 *Prices and lead times may vary in this article due to spiking demand for materials and employees as a side effect of Covid-19.
---
Breaking Down the Expenses
For the purposes of this article, we'll assume you have a basement that has all of its permits, but, if you don't, plan to spend about $1,600 for permits and inspections.



Labor
Depending on how much you plan to DIY, labor can make up approximately 40% or more of basement remodel costs. So expenses will vary.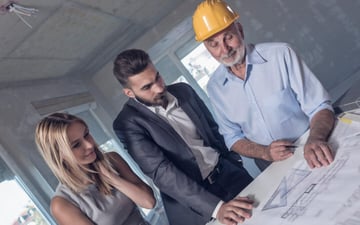 You'll likely want to hire a contractor in any case, so they can help oversee the project and avoid problems.

These are some other types of installers you'll likely want to utilize:
Framers and drywall installers
Insulation installers
Flooring installers
Window specialists
Electricians
Plumbers
Foundation repair specialists
Painters
Cost of Waterproofing Your Basement
You'll want to make sure your basement is waterproof before you start any major work, to avoid the risks of major water damage in your newly finished basement.
While it costs around $4,500 to waterproof your basement, it's a worthy investment.
Pumping water out of a flooded basement costs upwards of $10,000; in addition to the damaged furniture.
Cost to Drywall a Ceiling
A drywall ceiling starts around $1,600 (about $2/sqft). If you need some extra noise insulation you can use acoustic tiles which are about $4/sqft.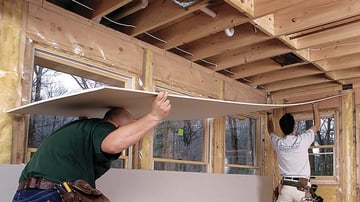 For easy access to you electrical and/or HVAC systems, you can use Drop Ceilings, which average around $3.50 - $4.30 per square foot.
Cost to Finish Your Basement with Drywall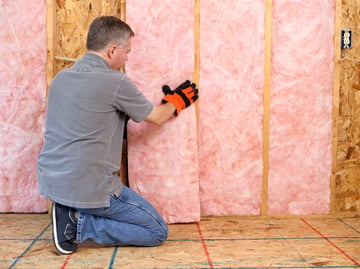 Completing a drywall installation costs about $2,000, but transforms a cold, hard space into a comfortable living area.
Contractors typically include the installation in the $15 per panel price.
For a warm, dry basement, be sure to complete your install with waterproofing and insulation underneath your drywall.
Cost to Install Flooring
The cost to install floors averages right around $3,000. But ultimately largely depends on materials, style, and size.
You also need a basement that has a flat surface. You'll need to level your floor to be within 3/16-inch change per 10 feet.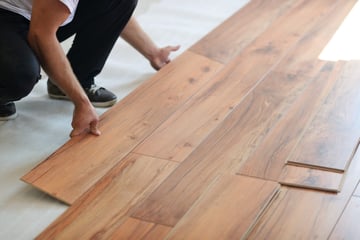 One of the most popular materials for flooring has become Luxury Vinyl Planks, LVP.
It's costs effective, water proof, and has a luxurious natural wood look.
Plus, it's installation is easy enough to DIY and save some money on labor.
Cost to Finish a Bathroom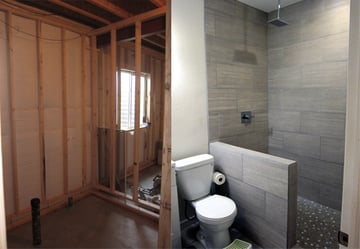 Finishing a Bathroom is where a large portion of your expenses will come from.
On average, adding a bathroom costs from $10,000 - $30,000. So count yourself lucky if you have an existing bathroom.
Price range widely from varying pricing in what piping is needed, installation, and materials.
Try to install your bathroom near existing plumbing to reduce costs on installation.
Hiring a Designer to Guide You
Hiring a designer will cost you between $2,000 and $13,000; depending on skill and experience.
You may want to opt for consulting with a designer though. They'll be able to guide you in the right direction with aesthetics, functionality, and materials that fit your ideas and, more importantly, your budget.
Making your project that much easier.
DIY vs Hiring Sub-Contractors
DIYing can be a great way to save hugely on labor costs. Roughly 40% of the costs of a basement remodel come from labor.
Ultimately, however, it comes down to your experience, your equipment, and what you're comfortable with.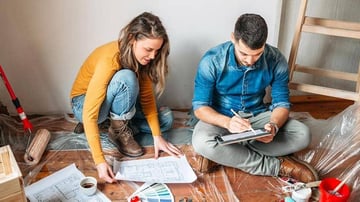 There is a plenty of access to educational materials to teach yourself nowadays. So even if you don't have the experience, you can still learn.
You can rent equipment you need, or, if you plan on doing more remodel work and/or maintenance, it's not a bad idea to invest in some equipment of your own.
However, unless you're a plumber or electrician, you'll want to hire professionals for any plumbing or electrical work; to avoid causing serious damage.
You can ask the professional you're working to help with things like demo and clean up work to help reduce costs with these projects.
Saving Costs By Sourcing Materials Carefully
Typically, most people think of going to the large department stores for big savings and the best help.
However, these companies are designed for mass scale, but not in a way that helps you in a remodel. Long and costly deliveries will inevitably blowout your budget and ruin your time line - assuming it arrives undamaged.
Shopping at a local store like Flippers Warehouse allows you to avoid any delivery mishaps or delays.
Plus, we stock our products in bulk. So you get wholesale prices on every order; not just ones that qualify.
Your Concierge for Flooring, Cabinets, & Countertops
Having someone to guide you through the process of designing and executing projects on your home remodel makes a big difference.
Just like working with a real estate broker to make your home buying/selling smooth a simple.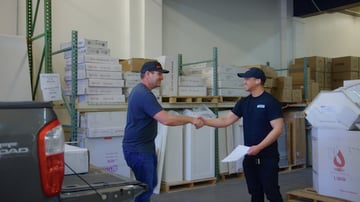 That's why we give you a free dedicated specialist, that is an experienced real estate professional, to give you complete guidance finding the right materials quickly and affordably.
Just send us a message and your specialist will get in touch with you to answer any questions, or call to speak with someone now!
All Your Flooring, Cabinet, and Countertop Needs in ONE Place!
We carry white speckled quartz, White shaker cabinets near me", kitchens with vinyl plank flooring, wholesale cabinet warehouses near me, wholesale cabinets and floors, Laminate flooring, vinyl flooring, white shake pantry, vanities for remodel, vanities for bathrooms, white vanities for the kitchen, wood colored vinyl flooring, white countertops, marbled countertops, vinyl flooring for a remodel, white shaker vanity cabinets, speckled quartz countertops for kitchens, wholesale cabinets in Seattle, wholesale flooring in Seattle, vinyl flooring store near me, vinyl flooring store in Seattle, vinyl flooring store, white shaker cabinets available in Seattle now, shaker cabinets near me, laminate flooring near me, vinyl flooring near me, natural wood colored flooring for sale near Seattle, natural wood colored vinyl flooring planks, waterproof laminate flooring near me, vinyl flooring planks near me, laminate flooring planks near me, Vinyl flooring planks near Seattle, white kitchen cabinets, white bathroom cabinets, white shaker kitchen cabinets, white bathroom vanity with cabinets, white bathroom vanity with drawer, white cabinet bathroom vanity with drawers, vinyl flooring that looks like wood, laminate floor that looks like wood, laminate flooring like wood in Seattle, vinyl flooring like wood in Seattle, Kitchen Designer, Online Kitchen Cabinet Designer, Kitchen Designer near me, Online Kitchen Designer, Online Kitchen Design Service, vinyl flooring that looks like wood in Seattle, wholesale Flooring planks near me, Vinyl flooring planks near Seattle, vinyl plank flooring, cabinet warehouse near me, wholesale cabinet warehouse, wholesale flooring warehouse, countertop warehouse, cabinet warehouse, flooring warehouse, luxury vinyl plank flooring near me, vinyl plank flooring near me, bathroom vanity near me, laminate flooring on sale, laminate flooring on discount, vinyl flooring sale, vinyl flooring on sale, vinyl flooring on sale in Seattle now, Vinyl Flooring Planks for Sale, Cabinets For Sale, Countertops for sale, wholesale vinyl flooring on sale in Seattle now, white vanities on sale near me, white vanities on sale now in Seattle, white vanities with drawers on sale, white vanities without drawers, white vanities with drawers and cupboard, & more!