How to Install Cabinets
Installing cabinets is a great way to update the look of any room in your home.
Whether you're remodeling your bathroom, kitchen, office, or living space, installing new cabinets can give your space an entirely new feel and look.
It's important to understand how to install cabinets properly to ensure lasting quality and aesthetic appeal.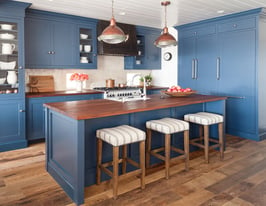 This guide will walk you through the process of cabinet installation from start to finish, including how to prepare your design, what materials you need, and key steps for ensuring a successful installation.
We'll also discuss the benefits of installing cabinets yourself or hiring pros, as well as tips for maintaining your new cabinets.
So, let's get started on how to install cabinets and create the perfect space. With a little preparation, you'll be ready to tackle this exciting home improvement project!
What Is Cabinet Installation
Cabinet installation is the process of installing cabinets in a room or structure. It involves measuring, cutting, and attaching the cabinets to walls or countertops.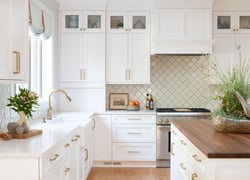 This job requires attention to detail and knowledge of proper installation techniques to ensure that the result is both aesthetically pleasing and structurally sound.
Preparing the surface prior to installation is critical so that the cabinets are securely attached and do not pull away from the wall over time.
Installers should also be aware of their work environment and make sure that all of their tools and supplies are readily available to avoid unnecessary delays in the installation process.
Cabinet installation typically requires the expertise of professionals to install cabinets in a home or office space.
It involves measuring the exact dimensions of where the cabinet will be placed, making sure the measurements are accurate and then cutting out any necessary hole openings.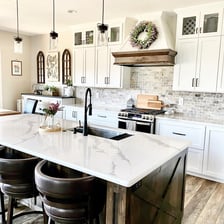 Afterward, the installers will secure the cabinets with wooden screws and ensure they are firmly attached to the wall before installing any additional components such as shelves or drawers.
Cabinet installation is essential for adding organization and beauty to a space while also maximizing storage room; however, it can be time-consuming, so it's important to make sure installers have experience in completing proper cabinet installation.
Benefits of Installing Cabinets Yourself
Installing your own cabinets can be a great way to save money, update your home, and increase its value.
Doing the task yourself eliminates the need to hire a contractor, so you can keep labor costs to a minimum.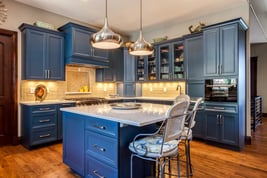 Additionally, you'll have control of the installation process and know exactly where your cabinets go - rather than relying on someone else's judgement.
Installing cabinets by yourself gives you freedom over selecting colors, materials, styles and shapes to match the overall design of your space; plus, if you install quality components they can last your home for years to come.
With the cost savings and unique design flourishes opting to install the cabinets yourself can be an extremely satisfying project.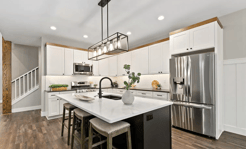 With careful planning and a little know-how, you can install everything from basic wall cabinets to large custom units.
With a few simple tools and some patience, you will soon be able to enjoy the safe, aesthetically pleasing results of a job well done.
Benefits of Having a Pro Install Cabinets
One of the benefits of having a professional install your cabinets is the guarantee that it will be done accurately and within the specified timeframe.
It is not only advantageous to have installers who are knowledgeable about their profession, but it also gives you peace of mind knowing that your cabinets have been tightly screwed and secured properly.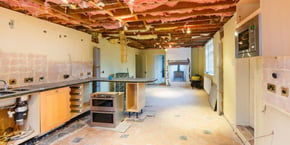 This can make all the difference in providing necessary support when loading heavy items into a cabinet as well as prolonging its life.
Professional installers come with an additional level of assurance that no detailed instructions or DIY videos can provide, making them far more reliable than many alternatives.
You may even save money in the long run by ensuring that everything is installed correctly, but it also takes away a hefty amount of stress knowing that a pro is the one doing the install.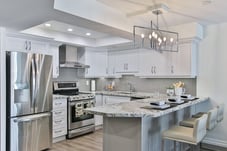 A professional install technician will make sure that your cabinets are properly sealed and anchored, meaning no damage will occur to your walls or cabinet doors due to faulty installations.
Furthermore, pros use clamps and fixtures specifically designed to install cabinets correctly - something a hobbyist wouldn't have access to.
In sum, having a pro install leaves homeowners with peace of mind knowing their hard-earned cash has been spent on quality and reliable install service.
Preparing Your Cabinet Design
Preparing your cabinet design is an important step when undertaking any install-related project.
Cabinets are a great way to give a space an updated look and feel, but must be carefully considered before install to maximize the success of the project.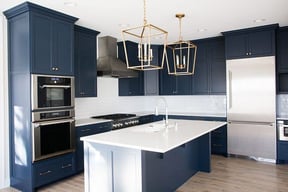 Before beginning the install, take into consideration factors such as size, shape, material and style of cabinets.
Consider also how they will interact with the room's existing features, such as surrounding furniture or appliances.
It is best to create a plan where all dimensions are well-thought out so that install can be done quickly and correctly.
Spend time researching different materials and styles to ensure you pick the right look for your install!
Using A Kitchen Designer to Create Your Cabinet Layout
Designing the perfect kitchen requires careful planning and precision.
After all, your kitchen cabinets are one of the most important design features that will create a functional space and help you achieve its desired aesthetic.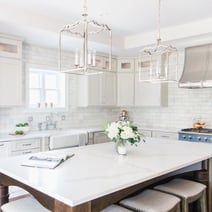 Installing cabinets correctly is essential for optimal results and convenience, which is why it's a good idea to consider working with a professional kitchen designer to help you lay out your cabinet layout.
A designer can help you install custom or standard cabinetry in spaces that make sense while helping you maximize your kitchen's potential.
By taking into account details like appliance requirements, countertop arrangements, island placements, and more, a designer has the knowledge and skill to construct an efficient plan for cabinet installation.
With the right approach and input from an experienced kitchen creator, you can be sure to create a stunning layout for your space with minimal hassle.
Tools and Materials Needed to Install Cabinets
Installing cabinets can be a tricky task, but having the right tools and materials on hand can make the process much smoother.
You should have a drill, screws, nails, saws, stud finder and level handy since these are all necessary items to install cabinets.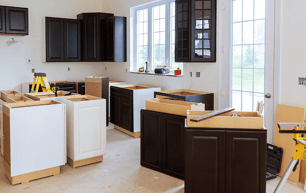 It is also helpful to have spare wood or extra panels in case of any misalignments that need to be filled in.
All these supplies should be gathered beforehand and laid out in an organized manner so installation goes as quickly and accurately as possible.
With the right tools and materials at your disposal, installing cabinets will be much easier.
Tips for Installing Cabinets
Installing cabinets is a great way to make any room look more modern and updated.
While it may seem complicated, installing cabinets doesn't have to be difficult.
Before you install your cabinets, measure the dimensions of the space.
You will also need wall anchors if unscrewing into your wall.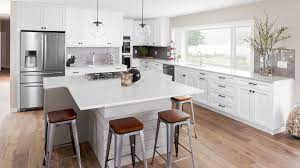 It is important to ensure any hardware or brackets are properly aligned before tightening them down.
Consider using a level for an extra layer of accuracy when securing cabinets in place.
When drilling the holes for your screws, use the appropriate drill bit so that you get the job done without experiencing any issues regarding fitment.
If you're not sure how to install cabinets properly, don't hesitate to seek assistance from a professional who can help you install them safely and efficiently.
Preparation and Measurement to Install Cabinets
Installing cabinets correctly is essential in ensuring a smooth and successful renovation.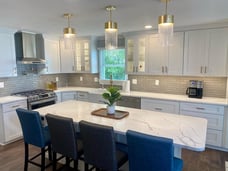 Prior to beginning, it's important to measure the area to ensure that the cabinet dimension fit in the designated space.
Measurements should also include a few extra inches for clearance.
This ensures that all pieces can be maneuvered into place without issues.
Once all tools that are needed have been gathered and the area has been prepped, installers can open their packages and install the components, using care and accuracy to make sure all connections are secure.
Finally, installers must check the cabinets for evenness and adjust accordingly for leveling purposes before finally securing them with screws or wall anchors as needed.
Incorporating these steps drive success when it comes time to install cabinets.
How to Install Cabinets
Before you install, it is important to measure the space where the cabinet will be installed.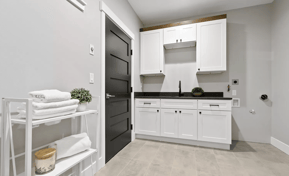 Once you have determined measurements and purchased your cabinets, you need to prepare the area for installation by leveling and attaching a ledger board.
Once all pieces are properly leveled, affix them to each other using both screws from the inside and outside of the cabinet frames.
Finally, install the cabinet doors securely using hinges and screws - this will ensure that they open and close properly.
Installing cabinets may seem intimidating if you have never done it before; however, following these steps should make it easier so that you can enjoy your newly-installed storage space as soon as possible!
How to Install Wall Cabinets
Installing wall cabinets is a project that many homeowners attempt on their own.
While it may seem overwhelming when viewed as a whole, with proper planning and guidance, you can install your cabinets successfully.
Before beginning the installation, it is strongly recommended to read the instructions thoroughly to become familiar with the materials and steps required.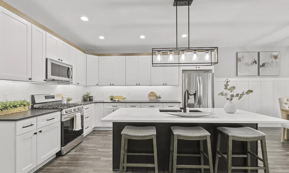 Additionally, having the right tools readily available and ensuring you have enough room to maneuver your cabinets will help make this project easier.
With proper understanding of the materials and procedure necessary for installation, your wall cabinets will be securely attached and looking great in no time!
How to Install Base Cabinets
Installing base cabinets can be a straightforward project, but it's important to take the time to prep the space beforehand.
Begin by making sure that your floors and walls are level and square; even small irregularities can cause installation issues and put strain on the cabinets.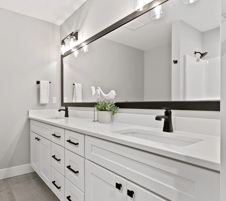 Next, install any wall lining or bracing required for your cabinet choice; some need additional support due to their size or weight.
Once complete, position your first cabinet in its desired location, preferably against a wall and not in a corner.
Make sure that it is level on all sides, then install the side panel to secure it in place.
Repeat this process with the next cabinet, ensuring that they fit snugly together.
Finally, install door hardware before you install the countertop of your choice!
Finishing Touches and Precautions Installing Cabinets
Installing cabinets is an important step in any home improvement project.
It is important to make sure all the proper measurements are being put in place, as well as considering the weight of all items being stored in the cabinet.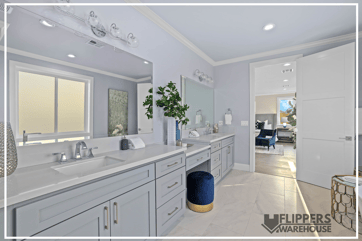 After all of these steps, it's now time to install your cabinets for the final touch!
Once you have installed your cabinets, there are a few key precautions that should be taken into consideration.
One of the most important things is to secure the cabinets to the wall or floor if applicable.
This will ensure that potential accidents or injuries can be avoided from improperly secured furniture.
Additionally, cabinets with doors should be fitted with child locks as this will prevent kids from accessing potentially dangerous items stored inside.
Finally, always check for level during install and adjust where necessary for proper installation.
Following these finishing touches and precautions will help install your cabinets safely and securely for many years to come!
Maintaining Your New Cabinets
Installing new cabinets can be a great way to upgrade the look of your home.
However, proper upkeep is essential in ensuring they remain in pristine condition.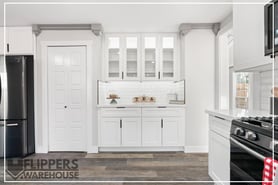 By regularly dusting and wiping down your cabinets with a damp cloth, you can eliminate dirt and grime build-up which can contribute to discoloration.
Additionally, you should check that all the handles and other components are still tightly secured and adjusted appropriately.
Areas near sinks, dishwashers, and stoves should be inspected more often as they are prone to water damage due to frequent use.
Taking these measures will not only help you keep your cabinets looking their best but also prolong their lifespan.
How to Find Cabinets Nearby
If you're looking for cabinets nearby, there are a few steps you can take to make it an easier process.
First, take into account the size and purpose of the cabinet you need; understanding the specific dimensions and features required can narrow down the options.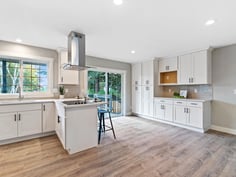 Next, start researching in your area by considering online customer reviews or asking around to word-of-mouth recommendations from people you know.
Finally, reach out directly to local stores that offer cabinets and get details on pricing, color availability, delivery time, and more.
With these steps in mind, you'll have a much simpler time finding the perfect Cabinets nearby!
All Your Flooring, Cabinet, and Countertop Needs in ONE Place!
Whether you're looking for white speckled quartz, White shaker cabinets near me", kitchens with vinyl plank flooring, wholesale cabinet warehouses near me, wholesale cabinets and floors, Laminate flooring, vinyl flooring, white shake pantry, vanities for remodel, vanities for bathrooms, white vanities for the kitchen, wood colored vinyl flooring, white countertops, marbled countertops, vinyl flooring for a remodel, white shaker vanity cabinets, speckled quartz countertops for kitchens, wholesale cabinets in Seattle, wholesale flooring in Seattle, white shaker cabinets available in Seattle now, shaker cabinets near me, laminate flooring near me, vinyl flooring near me, natural wood colored flooring for sale near Seattle, natural wood colored vinyl flooring planks, waterproof laminate flooring near me, vinyl flooring planks near me, laminate flooring planks near me, Vinyl flooring planks near Seattle, white kitchen cabinets, white bathroom cabinets, white shaker kitchen cabinets, white bathroom vanity with cabinets, white bathroom vanity with drawer, RTA Cabinets, RTA Cabinetry, Ready to Assemble Cabinets, white cabinet bathroom vanity with drawers, vinyl flooring that looks like wood, laminate floor that looks like wood, laminate flooring like wood in Seattle, vinyl flooring like wood in Seattle, vinyl flooring that looks like wood in Seattle, laminate flooring on sale, laminate flooring on discount, vinyl flooring sale, Prime Windows, Window Store ,Window Storefront, Glass Windows, Glass Windows near me, Window manufacturer, window manufacturer near me, replacement windows Seattle, In Stock Windows near me, new windows near me, windows depot near me, doors and windows Seattle, Windows Shop, Windows Shop near me, vinyl flooring on sale, vinyl flooring on sale in Seattle now, wholesale vinyl flooring on sale in Seattle now, white vanities on sale near me, white vanities on sale now in Seattle, white vanities with drawers on sale, white vanities without drawers, white vanities with drawers and cupboard, Vinyl Flooring Planks for Sale, Cabinets For Sale, Countertops for sale, & more!