How Professional Cabinet & Flooring Suppliers Help You Avoid Delays
Are you looking to spruce up a home?
Skip the headache of shopping at big department stores and you'll be shocked at how much a professional cabinet and flooring supplier can help you stay on time and on budget!

Professional cabinet and flooring suppliers can provide the materials and services you need to complete your project on time and without delay.
But what happens when something goes wrong mid-project?
Don't worry – with the help of these professionals, even the toughest delays are no match!
Read on to learn how professional cabinet and flooring suppliers can help you avoid delays.
Why Professional Cabinet & Flooring Suppliers are Necessary
Without a reliable Cabinet & Flooring Supplier, any remodel projects don't stand a chance.
You search tirelessly through the Home Depot website, spending hour after hour with your laptop and ideas in hand, only to be met with disappointment when you realize that those swanky cabinets probably won't look quite as good if they fall apart after a few months.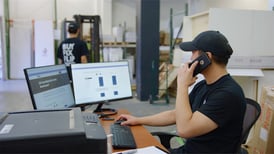 That's where a professional Cabinet & Flooring Supplier comes in - they know the ins and outs of everything Cabinet and Flooring related, so you never have to worry about ruining the aesthetic of your newest project.
Every professional knows that Cabinet & Flooring Suppliers are essential for every construction manager hoping to stick to their budget and timeline.
So the next time you have cabinetry or flooring needs – professional suppliers have got you covered. Trust us, they are well worth it!
Common Causes of Construction Delays
Construction Delays: The bane of every homeowner's existence. We've all heard the horror stories of projects that drag on for months (or even years!) longer than expected. But what causes these delays, you ask?
Well, let us count the ways...
1.) Mother Nature
She can be a real beast sometimes. Heavy rain, snow, or high winds can put a damper on construction. And let's not even get started on the plague of locusts.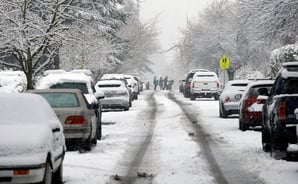 Mother Nature just loves to test the patience of the construction industry.
From sudden wind gusts that blow away carefully laid materials, to thunderous downpours that wash them away, when it comes to getting in the way of a project's plans, no element is safe from her meddling!
It's no wonder so many contractors factor natural elements into their project timelines, otherwise what should have been a quick job could end up taking months - or years- longer than expected if inclement weather intervenes.
Even though Mother Nature has caused plenty of headaches over the years in the construction industry, there's still something special about standing on a finished project with a gorgeous mountain vista behind you and knowing that you conquered her fury with resilience and tenacity.
2.) Design Changes
"Honey, I love the kitchen we picked out... but I just saw an Instagram post with a kitchen that has a built-in cupcake dispenser. Can we add that?"
Changes like this can cause delays, as they require additional time to plan and implement.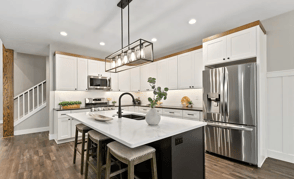 An ongoing joke among industry pros is that the construction industry is always playing catch-up to their designs.
Redesigns and changes during the building process is often an unavoidable part of modern-day remodeling.
However they can lead to some serious logistical issues, not to mention headaches and delays.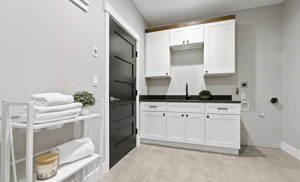 While it may seem like a small issue on paper, the reality of creating a seemingly small design change can often cause cascading problems throughout a construction project, resulting in extra time needed for completion.
Thankfully for the sake of everyone involved in these complicated projects, designers, architects and engineers are usually able to outsmart bad redesigns before complete disaster ensues!
3.) Material Shortages
It's the classic "I went to the store and they were out of bread" scenario, except it's with construction materials. Workers may have to wait for months just for their materials to arrive before continuing with the project.
Building a home can be a long and complicated process, but when a material shortage strikes during the construction phase - delays can be exasperating!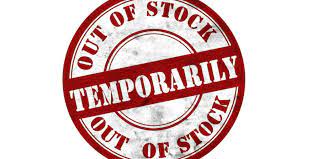 Picture this: you're on your couch, in the middle of that highly-anticipated rerun marathon, when you get a call and - bam! Your dreams of binge-watching have been replaced with dread.
Because of course, what could it only be – the dreaded material shortage! The next important question is probably this: how long until the materials arrive?
When shortages of material cause delays, it's enough to make any project manager throw their hands up in despair.
You would certainly expect them to start howling at the moon like a frustrated werewolf!
Of course, scrounging around for replacement materials is no fun either -- but these days they might as well just get comfortable and make themselves a cups of tea, as material shortages are an increasingly common challenge to navigate through.
4.) Permitting and Inspections
Construction projects can easily be compared to a box of chocolates; you never know how long it's going to take until they're done.
One particularly sweet treat on the construction project menu is permitting and inspections - a delectable affair that brings with it delays as teams wait for words of approval from the authorities.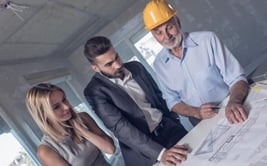 When it comes to construction, let's just say that it's not always as straightforward as one might think, and getting the blessing from those in charge can sometimes turn out to be one giant hurdle that needs to be carefully crossed.
So, if you're a builder waiting anxiously to wrap up your project, beware of the tantalizing snares of permit and inspection bliss - they may just detain your worksite longer than expected!
5.) Labor Shortages
Building projects have faced a difficult challenge since the beginning of time - the labor shortage.
The same worker can only be in one place at a time, and this simply isn't enough workers to finish some projects.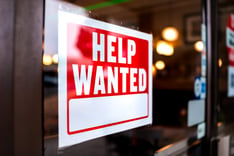 Consequently, construction delays are as reliable as the rising sun, completing projects takes twice as long and costing twice as much as if fewer delays occurred.
Although it's maddeningly frustrating for those involved, it would be hilarious if someone caught all this chaos on video!
It'd make for great entertainment, but until then we'll all just have to sit here and wait while they try to figure out how the heck they are going to complete the project despite their labor shortages.
6.) Unforeseen Events
Construction delays are always a nuisance, regardless of the project. Unforeseen events can make the situation even more frustrating.
From faulty materials to weather patterns and beyond, there are all sorts of ways that a seemingly straightforward job becomes anything but!
You set out to complete the job by a certain time, but as everyone in the industry knows, there are many potential threats that could disrupt your well-laid plans.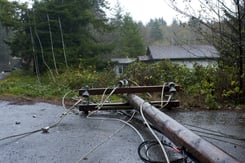 Unforeseen events can vary from discovering underground plumbing or utility lines to being rained out for days on end -- you can never be sure what obstacles you'll face.
Delays might be inevitable, but who would have guessed that aliens from outer space or predatory wildlife could be among the main causes!
The world may never know exactly how off schedule some projects end up being, but if those involved can look at it with a sense of humor, construction delays won't seem so bad after all.
The Benefits of Working with Professional Cabinet & Flooring Suppliers
Working with professional suppliers is like having a guardian angel looking after your business.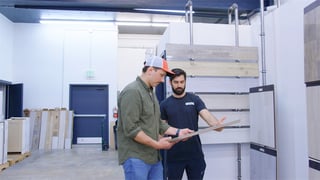 They take all the hassle out of buying goods, freeing you up to focus on other aspects of running your business.
Not only can you rest easy knowing that you are getting top quality goods and services, but knowing that time-consuming tasks like quality checks have already been done makes life even easier.
Whether your business needs tech, office supplies or furniture, working with professional suppliers means you never need to experience buyer's remorse; they will make sure what you buy is perfect for your needs - so no one ever has to sleep in the waiting room again!
Remodeling can be a challenging process, and it pays to leave it to the professionals.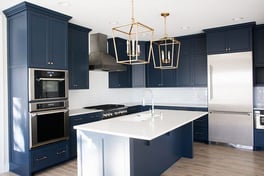 Working with expert suppliers on a remodel might feel intimidating at first, but there are so many benefits that you'll soon be wondering why you weren't doing it all along!
When you engage experienced suppliers in your project, you get honest advice backed by years of expertise— and don't forget the critical advantage of missing out on some of those tedious jobs that keep things from finishing off on time.
Put simply: working with pro suppliers is an easy way to have your cake and eat it too!
How Professional Cabinet & Flooring Suppliers Help You Avoid Construction Delays
Construction can be an inherently long and arduous process that often is plagued by unexpected delays.
Fortunately, having professional cabinets and flooring suppliers on board can help you avoid plenty of these headaches.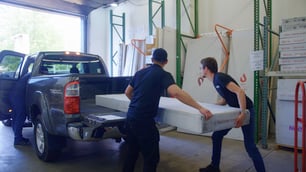 After all, cabinets and flooring form two major parts of any construction project, so when they are taken care of quickly and efficiently you are free to crack on with everything else!
Not only do cabinets and flooring suppliers have a huge range of options for you to pick from, but they also save you from measuring, cutting and fitting yourself - making them an invaluable asset and one way to sidestep any pesky delays that could otherwise leave your project at a standstill!
Adequate Stock Levels
Keeping cabinets and flooring stocked is crucial for the success of professional cabinet and flooring suppliers.
After all, who wants to be left in the dark waiting an eternity for cabinets and/or flooring that are out of stock?
Thankfully, these professionals know how important it is to keep cabinets and flooring both adequate and readily available when needed. Talk about keeping things sailin' smoothly!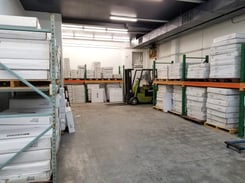 Just imagine if cabinets and flooring were always too busy gallivanting around the world instead of sitting on the showroom floors like they're supposed to - chaos would surely ensue!
It's a good thing that there are dependable professionals with enough common sense to ensure cabinets and flooring maintain their correct places in order for customers not to have unforeseen delays.
Personalized Customer Care
Working with cabinets and flooring suppliers has never been easier, thanks to the personalized customer care that professional cabinet and flooring suppliers like Flippers Warehouse offer.
Gone are the days of sending off an order and forgetting about it for weeks, only to find it sitting in a warehouse somewhere!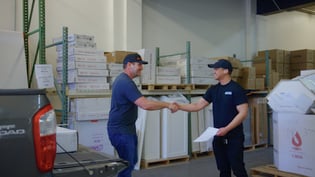 Now customers can have their cabinets or flooring delivered within days, thanks to these dedicated suppliers.
Instead of waiting around worrying if your cabinets will ever arrive, you can sit back and relax knowing that they're going to be there soon.
It's like having a personal assistant helping you navigate your home improvement project – without the expense!
The Best Way to Avoid Delays and Ensure a Great Project Outcome
Working on any project can become a time crunch, especially when cabinets, flooring, and other long-term projects are involved!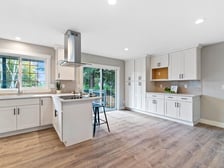 The best way to ensure you don't get delayed and continue working efficiently is careful planning.
Make sure that you have all of your cabinets and flooring materials on hand before beginning the project.
If you run out and have to wait on the next delivery truck, then chances are your entire timeline has gone out the window!
If you're looking to upgrade your home but don't want the hassle of making a mess and procrastinating, then working with a professional cabinets and flooring supplier is the perfect solution.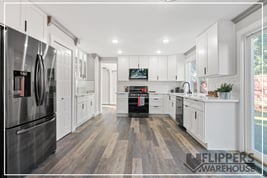 Not only will their experienced team help make sure your dreams become reality, but they'll keep things running on time so that you can get back to living life without further delay.
You can rest assured that when you work with the professionals, everything will come out looking just right.
How to Find Professional Cabinet & Flooring Suppliers
Finding the perfect cabinets and flooring to finish off your dream home can be a daunting task.
The good news is that there are plenty of reliable resources available to help you find professional cabinets and flooring suppliers.
Check out customer reviews for cabinet makers, Flooring stores, and even big box retailers in your area to get an idea of who has the experience and quality products you're looking for.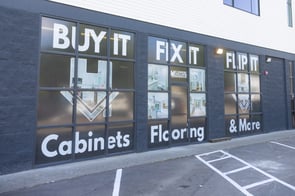 Or, skip all the hassle and ask Flippers Warehouse!
All Your Flooring, Cabinet, and Countertop Needs in ONE Place!
We carry white speckled quartz, White shaker cabinets near me", kitchens with vinyl plank flooring, wholesale cabinet warehouses near me, wholesale cabinets and floors, Laminate flooring, vinyl flooring, white shake pantry, vanities for remodel, vanities for bathrooms, white vanities for the kitchen, wood colored vinyl flooring, white countertops, marbled countertops, vinyl flooring for a remodel, white shaker vanity cabinets, speckled quartz countertops for kitchens, wholesale cabinets in Seattle, wholesale flooring in Seattle, vinyl flooring store near me, vinyl flooring store in Seattle, vinyl flooring store, white shaker cabinets available in Seattle now, shaker cabinets near me, laminate flooring near me, vinyl flooring near me, natural wood colored flooring for sale near Seattle, Kitchen Cabinet warehouse, Kitchen Cabinet Store, Cabinets near me, Luxury Vinyl Plank, LVP Flooring, Luxury Vinyl Plank Flooring, Luxury Vinyl Plank store, flooring store, cabinet warehouse, natural wood colored vinyl flooring planks, waterproof laminate flooring near me, vinyl flooring planks near me, laminate flooring planks near me, Vinyl flooring planks near Seattle, white kitchen cabinets, white bathroom cabinets, white shaker kitchen cabinets, white bathroom vanity with cabinets, white bathroom vanity with drawer, white cabinet bathroom vanity with drawers, vinyl flooring that looks like wood, laminate floor that looks like wood, laminate flooring like wood in Seattle, vinyl flooring like wood in Seattle, vinyl flooring that looks like wood in Seattle, wholesale Flooring planks near me, Vinyl flooring planks near Seattle, vinyl plank flooring, cabinet warehouse near me, wholesale cabinet warehouse, wholesale flooring warehouse, countertop warehouse, cabinet warehouse, flooring warehouse, luxury vinyl plank flooring near me, vinyl plank flooring near me, bathroom vanity near me, laminate flooring on sale, laminate flooring on discount, Kitchen Designer, Online Kitchen Cabinet Designer, Kitchen Designer near me, Online Kitchen Designer, Online Kitchen Design Service, vinyl flooring sale, vinyl flooring on sale, vinyl flooring on sale in Seattle now, Prime Windows, Window Store ,Window Storefront, Glass Windows, Glass Windows near me, Window manufacturer, window manufacturer near me, replacement windows Seattle, In Stock Windows near me, new windows near me, windows depot near me, doors and windows Seattle, Windows Shop, Windows Shop near me, wholesale vinyl flooring on sale in Seattle now, white vanities on sale near me, white vanities on sale now in Seattle, RTA Cabinets, RTA Cabinetry, Ready to Assemble Cabinets, white vanities with drawers on sale, Vinyl Flooring Planks for Sale, Cabinets For Sale, Countertops for sale, white vanities without drawers, white vanities with drawers and cupboard, & more!